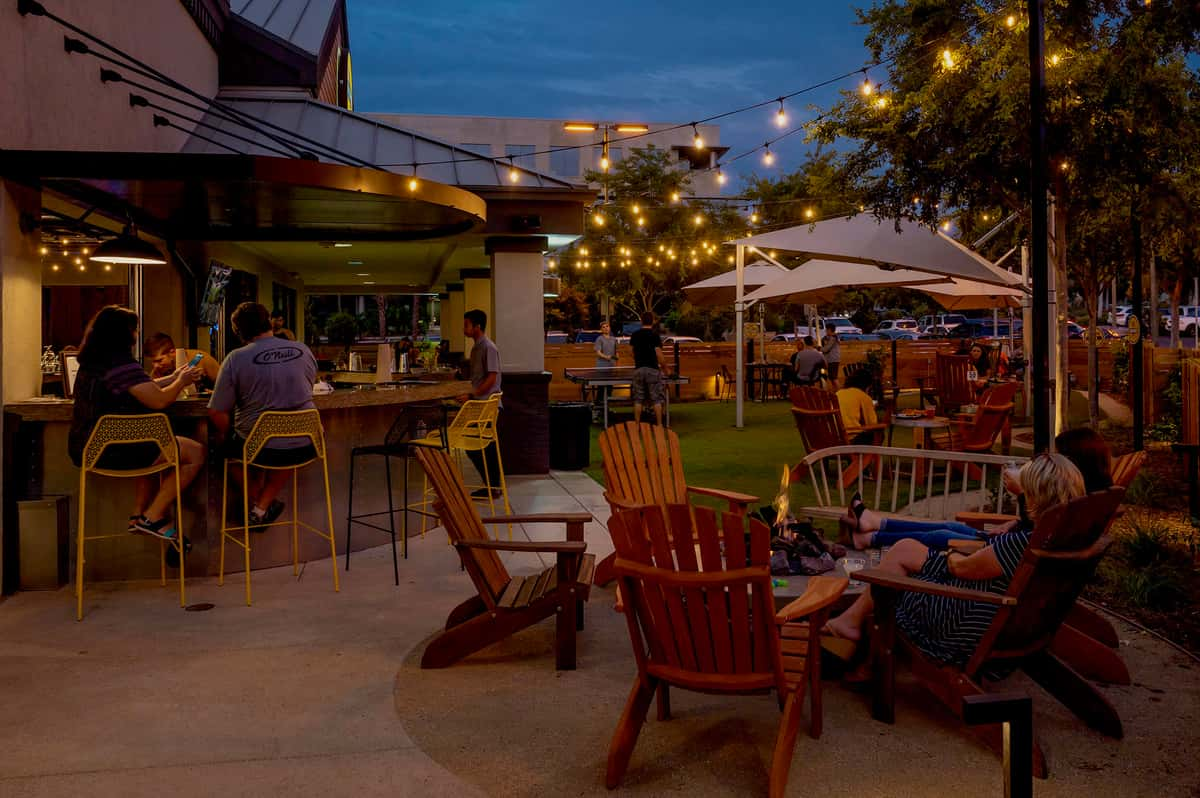 FAQ
What are your Hours of Operation?
Monday - Closed

Tuesday - Closed

Wednesday & Thursday- 12pm to 9pm, 

Friday & Saturday- 12pm to 10:00pm, 

Sunday- 10am to 9pm
Is My Yard Live Beer Co. dog friendly?
Yes, friendly dogs are allowed on our Adult Patio. Dogs are not allowed in the playground area. Dogs must be on a leash at all times.
Yes, it is open! Currently, we are not providing table service or dining in the playground area. All children must be accompanied by an adult at ALL times.
Does My Yard Live Beer Co. take reservations?
We strongly suggest it! Please visit www.myyardlive.com/reservations to make your reservation. Due to the state and county mandates, we are capping both reservation and walk-in parties at 16 guests unless previously approved by management. Parties larger than 8 people will be sat at separate tables of up to 8 guests. For parties larger than 16 guests, please contact us at info@myyardlive.com.
Are your video games and lounge games (pool & shuffleboard) open?
The video games and lounge games are open. Stay up to date at www.myyardlive.com or our social media.
I want to book my next event at My Yard Live Beer Co. What is the process?
We'd love to host your next event! Please contact us at info@myyardlive.com for more information.
Do you host "Dine-Out" Events?
Do you currently have live music?
We are excited to have live music on our patio Fridays and Saturdays from 6:00 - 9:00 pm and Sundays from 3:00 - 6:00 pm. All shows are free! Please visit https://www.myyardlive.com/events for our calendar of events.
Can we bring in our own cake?
Yes, you can! We do charge a $2.00 per person "cakeage fee". It includes both utensils and plates.
Do you show live sporting events?
We have multiple sports channels and TVs and always show a variety of sporting events and games. Due to the amount of TVs, we do our best to show the most desirable events on any given day. Because we are a family-friendly venue, we do not offer events like UFC or Boxing.
How do I sign up for the My Yard Live Beer Co. Rewards Program?
I signed up for the My Yard Live Beer Co. Rewards Program. How do I look up my account information?
Does My Yard Live Beer Co. offer a full bar?
Yes, My Yard live is a brewery, restaurant, and full-service bar.
I am a band and want to perform at My Yard Live Beer Co.. Who do I contact?
Are your yard games available?
Yes, outside shuffleboard and cornhole are available. To ensure we keep the games in good working order, only adults may check out the games, and children under the age of 14 must be supervised at all times. Games can be checked out from your server in exchange for a valid ID. Guests are responsible for broken, lost, or damaged games.