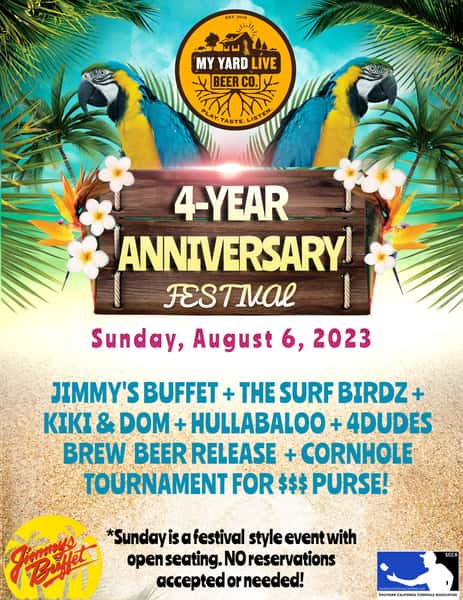 Aug 6
4-YEAR ANNIVERSARY SUNDAY LINEUP & SCHEDULE OF EVENTS!

Sunday, 8/6 So much to enjoy as we turn the venue into a tropical paradise!

12 pm - 1:15 pm - Kiki & Dom kicking off the day bringing you reggae and island vibes

1 pm to 6 pm - Cornhole Tournament with $ prizes Click here for details and to sign up! https://southerncaliforniacornhole.com/myyardlive/ 

1 pm & 2:15 pm (2 sets) Hullabaloo - Hosted on the kid's playground, Hullabaloo performs their own brand of foot-stomping, wing-flapping organic kid folk! 

1:45 pm to 3 pm - The Surf Birds, a unique 4-piece surf and classic rock band!

300pm - 345pm 4DUDES BREW beer release (FREE BEER TOAST)!

3:45 pm to 6 pm - Jimmy's Buffet, Parrot Heads UNITE to hear all the hits!
Sunday is a festival-style event with open seating! NO reservations needed or accepted!

We can't wait to celebrate this great weekend with our MYL Beer Co. Fam!!!!!!